The 1900 meters long swim leg will follow the shore along the famous Aurlandsfjorden. The water temperature is expected to be between 11 and 14° and you will safely by be accompanied by kayaks.
The start will be at the public beach in Aurland, a beautiful laguna-shaped sand beach, perfectly suited for fast water entry, and exit! You will swim straight out for 300m, then turn right and swim along the shore, before you once again turn right after 1000 meters, and return the same way a bit closer to land.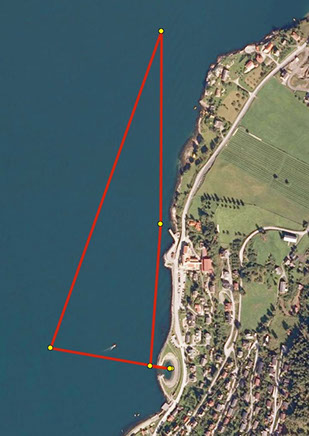 The swim leg seen from about one third up the first climb of the the bike leg.
The swim leg from a bird's perspective.

The picturesque start in 2015. Note the yellow buoy about 300 meters from the flags.
Aurlandsvangen, 5745 Aurland