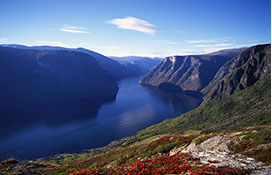 The Aurland fjord is part of the West Norwegian fjord landscape, and it is among the world's longest and deepest.

It is considered among the most scenically outstanding anywhere. Its exceptional natural beauty is derived from their narrow and steep-sided crystalline rock walls that rise up to 1,400 m from the Norwegian Sea and extend 500 m below sea level. The steep walls of the fjords have numerous waterfalls and free-flowing rivers from the surrounding glaciers, and you may even see one of the many seals and harbor porpoises which live in the Aurland fjord.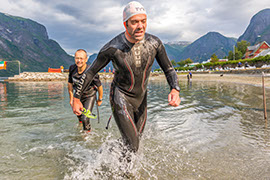 The climatic conditions in this part of Norway may be extreme. Since the very first AXTRI in 2010, the water temperature in the fjord has varied from 8 to 20 degrees Celsius. Similarly, the temperature may drop below the freezing point on top of the mountain on the bike leg, even in August. In contras, the run up Aurlandsdalen has seen temperatures close to 30 degrees Celsius. So prepare for all conditions, you never know what adventures you will endure!
RACE MANUAL 2021
Everything you need to know about this year's race!